We hope you are having a fabulous summer! We are VERY excited for the upcoming fall and to get everybody back into clogging!
1. NEW TEAM ASSIGNMENTS!
Below we have listed each clogger's name alphabetically by last name. Please find your name, and you will see your assigned team, times, and teacher.
PLEASE NOTE: IF YOU ARE IN THE SAME LEVEL AS LAST YEAR, YOU ARE STILL PROGRESSING! Each level has sub-levels within them. Many dancers spend at least 2-3 years in intermediate, advanced, and championship before moving up to the next level. Each dancer's placement has been carefully reviewed and decided upon.

2. TEAM SPECIFICS
Once you know your team name, scroll to the team information just to the left of the names to find the specific info for each team. THIS IS VERY IMPORTANT as each team has specific info, such as number of costumes, competitions, and performances to go to. Some require more than others and we want to make sure you are willing to commit to everything that is listed.
There is also a grid of when each class is held below. This shows the class name, the teacher, the ages in the class, the level and how many are in the class.
3. CLASS ASSIGNMENTS
Please know we have spent all summer going each dancer and matching up levels with ages, carpools, individual calendars, teachers, ability and everything we could to make things work out best! We feel great about our new teams. We have carefully formed each team to have a specific age range and level. If you have a problem with your assigned time, please contact us. Please know that we have evaluated each and every dancer and have placed them where we think they will progress with success.

4. OPEN HOUSE
Our annual studio OPEN HOUSE will be held on Saturday, August 12th from 10 a.m.-12 p.m.
We are ordering early this year so we can get our clogging shoes by the time classes begin.
We ask that each dancer and one parent please attend. At the Open House we will:
· Order new clogging shoes (if you order them at a different time, you will need to go to the shoe store in South Jordan on your own)
· Sell your used clogging shoes (bring in your old shoes and we'll set them out for others to buy)
· Buy used clogging shoes
· Get measured for your costume
· Order any costume bags, duffel bags or warm-ups needed
· Confirm your class and make sure all your contact information is correct
· Meet your teacher

5. YEARLY FEES
Each dancer (levels Beginning 2-Pro) will need an All-Around Solo DVD for the year to practice with at home. All cloggers should have one from summer camps. If you didn't attend all 3, you will be charged $20 for the DVD in September. If you still need a DVD, please let us know.
We have a yearly registration/membership fee of $15 per clogger or $25 per family. This will eliminate all recital and performance fees, as well as allow us to help cover other costs. This makes our Spring and Christmas Shows admission free! This is due either at the Open House or with September's tuition. The Registration Fee is paid each year in September.
6. PAYMENT and CHARGES
- Automatic Payment
We are asking ALL dancers to sign up for automatic withdrawal for monthly tuition. We also prefer that you use this form of payment for competition fees and costumes, however we will ask for a separate confirmation from you saying it is ok and for the amount requested.
You register for automatic payments by simply filling out the automatic withdrawal form at the Open House or at the studio. You can directly link our merchant account to withdrawal direct from your checking account (like a debit card) or with a credit card. We use a highly reputable merchant account which is very secure and has been doing this for many years with many businesses. The merchant account simply automatically withdraws each month to allow us to keep up on accounts.

For those that have their banks send us a monthly check, that is fine to continue. However, we ask that you also submit a way for us to collect your competition fees and costume fees through an automatic withdrawal.

If you have any questions, please simply contact us and let us know - Either by Email or call us 801-224-8334

7. THIS N THAT
This is our website that will be updated each month. We post everything- including performance information, locations, times, pictures, awards, and other info. Please visit it before starting the new clogging year. The web address is www.rmecloggers.com.
Lastly, if you have an email address that you check often, please notify us of it so we can send information to you that way as well. We also prefer having cell phone info, to contact you in cases of emergency as well as texts. We send reminders periodically by text and email, as well as monthly newsletters. We do most of our communication this way, so don't be left out!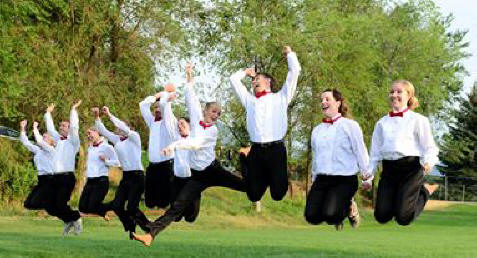 8. QUESTIONS?
If you have any questions, or concerns, please contact us.
E-mail: rmexpress@gmail.com
Call us: 801-224-8334
Thanks once again and we are so excited for this year!
Greg and Maria Tucker


2017-18 Class Schedule
Starts 8/28/17 - Ends 5/24/18
| | | | | | | | | | | | |
| --- | --- | --- | --- | --- | --- | --- | --- | --- | --- | --- | --- |
| | Monday | | | Tuesday | | | Wednesday | | | Thursday | |
| 3:00 | | | | | | | | | 1:00 | | |
| 3:15 | | | 3:15 | POWER | | | | | 1:30 | | |
| 3:30 | SENSATIONS | | 3:30 | Champ Sr | | | | | 3:30 | | |
| 3:45 | Pro Sr | | 3:45 | Greg | | 3:45 | STORM | | 3:45 | | |
| 4:00 | Maria | | 4:00 | (13-17 yrs) | | 4:00 | Adv Jr | | 4:00 | STARS | |
| 4:15 | (12-32 yrs) | | 4:15 | | | 4:15 | Greg | | 4:15 | Novice | |
| 4:30 | | | 4:30 | STOMPERS | | 4:30 | (12-15 yrs) | | 4:30 | Elisa | |
| 4:45 | | | 4:45 | Beg2-Boys | | 4:45 | | | 4:45 | EXTREME | |
| 5:00 | HOT SHOTS | | 5:00 | Greg | | 5:00 | DYNAMITE | | 5:00 | Inter | |
| 5:15 | Adv Elem | | 5:15 | (7-11 yrs) | | 5:15 | Inter | | 5:15 | Elisa | |
| 5:30 | Maria | | 5:30 | ELITE | | 5:30 | Greg | | 5:30 | (10-13 yrs) | |
| 5:45 | (8-12 yrs) | | 5:45 | Champ Jr | | 5:45 | (8-13 yrs) | | 5:45 | ENERGIZERS | |
| 6:00 | | | 6:00 | Maria | | 6:00 | SPARKLERS | | 6:00 | Beg II | |
| 6:15 | | | 6:15 | (10-14 yrs) | | 6:15 | Beg II | | 6:15 | Emily | |
| | | | 6:30 | | | 6:30 | Rebecca | | 6:30 | (8-12 yrs) | |
| | | | 6:45 | | | 6:45 | (6-8 yrs) | | 6:45 | | |
| | | | 7:00 | | | 7:00 | | | | | |
| | | | 7:15 | PREMIERE | | 7:15 | | | | | |
| | | | 7:30 | Pro YA | | 7:30 | Adults | | | | |
| | | | 7:45 | Maria | | 7:45 | Inter | | | | |
| | | | 8:00 | | | 8:00 | | | | | |
| | | | 8:15 | | | 8:15 | | | | | |
| | | | 8:30 | | | 8:30 | Unlimited | | | | |
| | | | 8:45 | | | 8:45 | Champ | | | | |
| | | | | | | 9:00 | Adult | | | | |
| | | | | | | 9:15 | Greg | | | | |
TEAM INFORMATION

Class Specifics

ADULTS Intermediate-
• Wednesdays, 7:30-8:30 p.m.
• Ages: 18-99
• Level: Intermediate
• Tuition: $40 per month
• Teacher:
• This class is purely recreational. No performances or competition.
• First day of class is Wednesday, August 30th.

DYNAMITE-
• Wednesdays, 5:00-6:00 pm
• Level: Intermediate
• Ages: 8-13
• Tuition: $40 per month
• Teacher: Greg
• Costumes: 1-2 costumes at $50-$75 each
• Required Competitions: Autumnfest (Nov 4), Thanksgiving Pt (Mar 2- 3) & Open Nationals (May 5)
• First day of class is Wednesday, August 30th.

ELITE-
• Tuesdays, 5:30-6:45 p.m.
• Level: Championship
• Ages: 10-14
• Tuition: $45 per month
• Teacher: Maria
• Costumes: 1-2 costumes at $50-$75 each.
• Required Competitions: Autumnfest (Nov 4), Thanksgiving Pt (Mar 2- 3), Utah State Championships (Apr 6-7) & Nationals (May 11-12)
• Optional: Branson Tour.
• First day of class is Tuesday, August 29th.

ENERGIZERS-
• Thursdays, 5:45-6:45 pm
• Level: Beginning 2
• Ages: 8-12
• Tuition: $40 per month
• Teacher: Emily
• Costumes: 1 costume at $50-$75
• Required Competitions: Autumnfest (Nov 4), Thanksgiving Pt (Mar 2- 3) & Open Nationals (May 5)
• First day of class is Thursday, August 31st.

EXTREME-
• Thursdays, 4:45-5:45 p.m.
• Level: Intermediate
• Ages: 10-13
• Tuition: $40 per month
• Teacher: Elisa
• Costumes: 1-2 costumes at $50-$75 each.
• Required Competitions: Autumnfest (Nov 4), Thanksgiving Pt (Mar 2- 3), Utah State Championships (Apr 6-7) & Open Nationals (May 5)
• First day of class is Thursday, August 31st.

FX-
• Tuesdays, 3:15-4:30 pm
• Level: Championship
• Ages: 13-17
• Tuition: $45 per month.
• Teacher: Greg
• Costumes: 1-2 costumes at $50-$75 each.
• Required Competitions: Autumnfest (Nov 4), Thanksgiving Pt (Mar 2- 3), Utah State Championships (Apr 6-7) & Nationals (May 11-12)
Optional: Branson Tour.
• First day of class is Tuesday, August 29th.

HOT SHOTS-
• Mondays, 5:00-6:15 pm
• Level: Advanced
• Ages: 8-12
• Tuition: $45 per month
• Teacher: Maria
• Costumes: 1-2 costumes at $50-$75 each.
• Required Competitions: Autumnfest (Nov 4), Thanksgiving Pt (Mar 2- 3), Utah State Championships (Apr 6-7) & Open Nationals (May 5)
• First day of class is Monday, August 28th.

MINIS-
• Thursdays,
• Level: Novice
• Ages 3-5
• Tuition: $35 per month.
• Teacher:
• Costumes: 1 costume at $45-$65 each.
• Required Competitions: None
• First day of class is Thursday, August 31st.

PREMIERE-
• Tuesdays, 6:45-8:45 p.m.
• Level: Pro
• Tuition: $50 per month
• Teacher: Maria
• Costumes: 6-7 costumes at $65-$150 each. (rotated every 3 years)
• Required Competitions: Autumnfest (Nov 4), St. George OR Idaho St Champs, Utah State Championships (Apr 6-7) & Nationals (May 11-12)
• Optional: Branson Tour (June 2018)
• First day of class is Tuesday, August 29th.

SENSATIONS-
• Mondays 3:15-5:00 pm
• Level: Pro
• Tuition: $50 per month
• Teacher: Maria
• Costumes: 3-4 costumes at $50-$100 each.
• Required Competitions: Autumnfest (Nov 4), Thanksgiving Pt (Mar 2- 3), Utah State Championships (Apr 6-7) & Nationals (May 11-12)
• Optional trips: Branson Tour (June 2018)
• First day of class is Monday, August 28th

SPARKLERS-
• Wednesdays, 6:00-7:00 pm
• Level: Beginning 2
• Ages: 6-8
• Tuition: $40 per month
• Teacher - Rebecca
• Costumes: 1 costume at $50-$75 each.
• Required Competitions: Autumnfest (Nov 4), Thanksgiving Pt (Mar 2- 3) & Open Nationals (May 5)
• First day of class is Wednesday, August 30th.

STARS-
• Thursdays, 4:00-4:45 pm
• Level: Novice
• Tuition: $35 per month
• Teacher: Elisa
• Costumes: 1 costume at $45-$65 each.
• Required Competitions: None
• First day of class is Thursday, August 31st.

STOMPERS-
• Tuesdays, 4:30-5:30 p.m.
• Level: Beginning 2 (All Boys)
• Ages: 7-11
• Tuition: $40 per month
• Teacher: Greg
• Costumes: 1 costume at $45-$75
• Required Competitions: Autumnfest (Nov 4), Thanksgiving Pt (Mar 2- 3) & Open Nationals (May 5)
• First day of class is Tuesday, August 29th.

STORM-
• Wednesdays, 3:45-5:00 pm
• Level: Advanced
• Ages: 12-15
• Tuition: $45 per month
• Teacher: Greg
• Costumes: 1-2 costumes at $45-$75 each.
• Required Competitions: Autumnfest (Nov 4), Thanksgiving Pt (Mar 2- 3), Utah State Championships (Apr 6-7) & Open Nationals (May 5)
• First day of class is Wednesday, August 30th.

UNLIMITED-
• Wednesdays, 8:30-9:30 pm
• Level: Championship, Adult
• Ages: 18+
• Tuition: $40 per month.
• Teacher: Greg
• Costumes: 1-2 costumes at $45-$85 each.
• Required Competitions: Thanksgiving Pt (Mar 2- 3), Utah State Championships (Apr 6-7) & Nationals (May 11-12)
• Optional trips: St. George Competition.
• First day of class is Wednesday, August 30th.

HAVE A QUESTION?

We have spent several weeks arranging classes and we feel your cloggers have been placed in the most appropriate class for them. We have tried VERY HARD to match cloggers to the team that will fit their level, ages, friends, and schedules best.

If you can make it work, awesome!
If not, please contact us (E-mail is easiest) immediately with any questions and we will do our best to accommodate you.

Team Assignments:

| Name | Team | Day | Time | Teacher |
| --- | --- | --- | --- | --- |
| Emma Adams | Dynamite | Wednesday | 5:00-6:00 pm | Greg |
| Andrew Alldredge | Stompers | Tuesday | 4:30-5:30 pm | Greg |
| Barbara Alldredge | Unlimited | Wednesday | 8:30-9:30 pm | Greg |
| Marcus Alldredge | Dynamite | Wednesday | 5:00-6:00 pm | Greg |
| Amber Anderson | Unlimited | Wednesday | 8:30-9:30 pm | Greg |
| Kari Ash | Adults Int | Wednesday | 7:30-8:30 pm | |
| Ashlee Barker | Unlimited | Wednesday | 8:30-9:30 pm | Greg |
| Brooklyn Barker | Hot Shots | Monday | 5:00-6:15 pm | Maria |
| Averie Bartholomew | Dynamite | Wednesday | 5:00-6:00 pm | Greg |
| Brekelle Bartholomew | Dynamite | Wednesday | 5:00-6:00 pm | Greg |
| Kira Bartholomew | Sensations | Monday | 3:15-5:00 pm | Maria |
| Rebekah Bennett | Storm | Wednesday | 3:45-5:00 pm | Greg |
| Addison Bethards | Premiere | Tuesday | 6:45-8:45 pm | Maria |
| Autumn Bickmore | Sensations | Monday | 3:15-5:00 pm | Maria |
| Rachel Billings | Adults Int | Wednesday | 7:30-8:30 pm | |
| Malia Blackwell | Elite | Tuesday | 5:30-6:45 pm | Maria |
| Lauryn Bollard | FX | Tuesday | 3:15-4:30 pm | Greg |
| Brielle Bowen | Sparklers | Wednesday | 6:00-7:00 pm | Rebecca |
| Khloe Bowen | Sparklers | Wednesday | 6:00-7:00 pm | Rebecca |
| McKenzie Bybee | Premiere | Tuesday | 6:45-8:45 pm | Maria |
| Vanessa Carson | FX | Tuesday | 3:15-4:30 pm | Greg |
| Brianna Chambers | Unlimited | Wednesday | 8:30-9:30 pm | Greg |
| Kate Christensen | Storm | Wednesday | 3:45-5:00 pm | Greg |
| Liberty Cornaby | Extreme | Thursday | 4:45-5:45 pm | Elisa |
| Jared Cox | Stompers | Tuesday | 4:30-5:30 pm | Greg |
| Julene Cox | Elite | Tuesday | 5:30-6:45 pm | Maria |
| Nathan Cox | Premiere | Tuesday | 6:45-8:45 pm | Maria |
| Tanner Cox | Stars | Thursday | 4:00-4:45 pm | Elisa |
| Alisha Davis | Sensations | Monday | 3:15-5:00 pm | Maria |
| Anna Davis | Extreme | Thursday | 4:45-5:45 pm | Elisa |
| Georgia Davis | Minis | | | |
| Olivia Davis | Storm | Wednesday | 3:45-5:00 pm | Greg |
| Sumara Davis | Energizers | Thursday | 5:45-6:45 pm | Emily |
| Sophie Draper | Stars | Thursday | 4:00-4:45 pm | Elisa |
| Kaylyn Dukes | Extreme | Thursday | 4:45-5:45 pm | Elisa |
| Cael Erickson | FX | Tuesday | 3:15-4:30 pm | Greg |
| Eden Erickson | Hot Shots | Monday | 5:00-6:15 pm | Maria |
| Mara Erickson | Elite | Tuesday | 5:30-6:45 pm | Maria |
| Kortinee Ferran | Sparklers | Wednesday | 6:00-7:00 pm | Rebecca |
| Lily Foote | Sparklers | Wednesday | 6:00-7:00 pm | Rebecca |
| Madalyn Gale | Sensations | Monday | 3:15-5:00 pm | Maria |
| Becky Gandy | Unlimited | Wednesday | 8:30-9:30 pm | Greg |
| Rachel Gandy | Sparklers | Wednesday | 6:00-7:00 pm | Rebecca |
| Dylan George | Hot Shots | Monday | 5:00-6:15 pm | Maria |
| Brinlee Gillman | Hot Shots | Monday | 5:00-6:15 pm | Maria |
| Amanda Gomez | FX | Tuesday | 3:15-4:30 pm | Greg |
| Alaina Hadfield | Elite | Tuesday | 5:30-6:45 pm | Maria |
| Alicia Hadfield | Sparklers | Wednesday | 6:00-7:00 pm | Rebecca |
| Alana Handy | Extreme | Thursday | 4:45-5:45 pm | Elisa |
| Molly Harris | Energizers | Thursday | 5:45-6:45 pm | Emily |
| Emily Harrison | Sensations | Monday | 3:15-5:00 pm | Maria |
| Emily Hatch | Premiere | Tuesday | 6:45-8:45 pm | Maria |
| Haddy Herring | Extreme | Thursday | 4:45-5:45 pm | Elisa |
| Liza Herring | Storm | Wednesday | 3:45-5:00 pm | Greg |
| Amy Hess | Stars | Thursday | 4:00-4:45 pm | Elisa |
| Treydon Hess | Minis | | | |
| Jon Horan | Premiere | Tuesday | 6:45-8:45 pm | Maria |
| Claire Houghton | Extreme | Thursday | 4:45-5:45 pm | Elisa |
| Rachel Humphries | Premiere | Tuesday | 6:45-8:45 pm | Maria |
| Crisanne Iund | Adults Int | Wednesday | 7:30-8:30 pm | |
| Kara Jepson | Elite | Tuesday | 5:30-6:45 pm | Maria |
| Sheryl Jepson | Unlimited | Wednesday | 8:30-9:30 pm | Greg |
| Eden Johnson | Dynamite | Wednesday | 5:00-6:00 pm | Greg |
| Naomi Johnson | Sparklers | Wednesday | 6:00-7:00 pm | Rebecca |
| Abbie Jones | Sensations | Monday | 3:15-5:00 pm | Maria |
| Ammon Jones | Stars | Thursday | 4:00-4:45 pm | Elisa |
| Eden Jones | Sensations | Monday | 3:15-5:00 pm | Maria |
| Ellie Jones | Sensations | Monday | 3:15-5:00 pm | Maria |
| Marley Jones | Hot Shots | Monday | 5:00-6:15 pm | Maria |
| Hope Kanenwisher | Extreme | Thursday | 4:45-5:45 pm | Elisa |
| Kaitlin Kaouk | FX | Tuesday | 3:15-4:30 pm | Greg |
| Melissa Kirkpatrick | | | | |
| Susie Kirkpatrick | Elite | Tuesday | 5:30-6:45 pm | Maria |
| Brittney Knackstedt | Unlimited | Wednesday | 8:30-9:30 pm | Greg |
| Macie Kynaston | Energizers | Thursday | 5:45-6:45 pm | Emily |
| Lila Lemke | Energizers | Thursday | 5:45-6:45 pm | Emily |
| Andrea Leong | Sensations | Monday | 3:15-5:00 pm | Maria |
| Audrey Lovell | FX | Tuesday | 3:15-4:30 pm | Greg |
| Nadia Luke | Energizers | Thursday | 5:45-6:45 pm | Emily |
| Katie Madsen | Unlimited | Wednesday | 8:30-9:30 pm | Greg |
| Callie Magleby | Energizers | Thursday | 5:45-6:45 pm | Emily |
| Kezlie McKay | Dynamite | Wednesday | 5:00-6:00 pm | Greg |
| Lilliah McKay | Sparklers | Wednesday | 6:00-7:00 pm | Rebecca |
| Claire McNairy | Energizers | Thursday | 5:45-6:45 pm | Emily |
| Emily McNairy | Energizers | Thursday | 5:45-6:45 pm | Emily |
| Brooklyn Mecham | Energizers | Thursday | 5:45-6:45 pm | Emily |
| Malyssa Mecham | Extreme | Thursday | 4:45-5:45 pm | Elisa |
| Cami Mendez | Minis | | | |
| Mia Mendez | Dynamite | Wednesday | 5:00-6:00 pm | Greg |
| Megan Mickelson | Storm | Wednesday | 3:45-5:00 pm | Greg |
| Jackson Miles | Stompers | Tuesday | 4:30-5:30 pm | Greg |
| Hyrum Miller | Storm | Wednesday | 3:45-5:00 pm | Greg |
| Jessica Miller | Premiere | Tuesday | 6:45-8:45 pm | Maria |
| Liam Miller | FX | Tuesday | 3:15-4:30 pm | Greg |
| Marlys Miller | Adults Int | Wednesday | 7:30-8:30 pm | |
| Ariana Minson | Extreme | Thursday | 4:45-5:45 pm | Elisa |
| Basia Minson | Extreme | Thursday | 4:45-5:45 pm | Elisa |
| Rayna Minson | Sparklers | Wednesday | 6:00-7:00 pm | Rebecca |
| Marci-Ann Mitchell | Unlimited | Wednesday | 8:30-9:30 pm | Greg |
| Kaitlin Nichols | Premiere | Tuesday | 6:45-8:45 pm | Maria |
| Emilie Nielsen | Hot Shots | Monday | 5:00-6:15 pm | Maria |
| Marianne Ohran | Unlimited | Wednesday | 8:30-9:30 pm | Greg |
| Brooklyn Oldham | Extreme | Thursday | 4:45-5:45 pm | Elisa |
| Jeffrey Oliphant | Storm | Wednesday | 3:45-5:00 pm | Greg |
| Asia Pease | Sparklers | Wednesday | 6:00-7:00 pm | Rebecca |
| Elizabeth Pease | Energizers | Thursday | 5:45-6:45 pm | Emily |
| Ellie Pendleton | Energizers | Thursday | 5:45-6:45 pm | Emily |
| Nicole Petersen | Adults Int | Wednesday | 7:30-8:30 pm | |
| Ariel Peterson | Unlimited | Wednesday | 8:30-9:30 pm | Greg |
| Matthew Peterson | Sensations | Monday | 3:15-5:00 pm | Maria |
| Nathan Peterson | Adults Int | Wednesday | 7:30-8:30 pm | |
| Nicholas Peterson | Sensations | Monday | 3:15-5:00 pm | Maria |
| Connor Phillips | FX | Tuesday | 3:15-4:30 pm | Greg |
| Gracie Phillips | Extreme | Thursday | 4:45-5:45 pm | Elisa |
| Sam Phillips | Stompers | Tuesday | 4:30-5:30 pm | Greg |
| Alyxandria Phippen | FX | Tuesday | 3:15-4:30 pm | Greg |
| Max Phippen | Dynamite | Wednesday | 5:00-6:00 pm | Greg |
| Kira Rasmussen | Premiere | Tuesday | 6:45-8:45 pm | Maria |
| Angela Rex | Elite | Tuesday | 5:30-6:45 pm | Maria |
| David Rex | Stompers | Tuesday | 4:30-5:30 pm | Greg |
| Gina Rex | Dynamite | Wednesday | 5:00-6:00 pm | Greg |
| Kathleen Rex | Sparklers | Wednesday | 6:00-7:00 pm | Rebecca |
| Thomas Rex | FX | Tuesday | 3:15-4:30 pm | Greg |
| Elisa Richardson | Premiere | Tuesday | 6:45-8:45 pm | Maria |
| Rebecca Ricks | Premiere | Tuesday | 6:45-8:45 pm | Maria |
| Ian Robertson | Dynamite | Wednesday | 5:00-6:00 pm | Greg |
| Truman Robertson | Stompers | Tuesday | 4:30-5:30 pm | Greg |
| Rebekah Rowe | FX | Tuesday | 3:15-4:30 pm | Greg |
| Crista Sabins | Hot Shots | Monday | 5:00-6:15 pm | Maria |
| Hannah Sanders | Storm | Wednesday | 3:45-5:00 pm | Greg |
| Madison Sarahs | Extreme | Thursday | 4:45-5:45 pm | Elisa |
| Sadie Schow | Elite | Tuesday | 5:30-6:45 pm | Maria |
| Sarah Schulz | Unlimited | Wednesday | 8:30-9:30 pm | Greg |
| Emily Searle | Extreme | Thursday | 4:45-5:45 pm | Elisa |
| Danielle Simko | Elite | Tuesday | 5:30-6:45 pm | Maria |
| Spencer Simko | FX | Tuesday | 3:15-4:30 pm | Greg |
| Shaina Skinner | Unlimited | Wednesday | 8:30-9:30 pm | Greg |
| Meika Southern | Energizers | Thursday | 5:45-6:45 pm | Emily |
| Madelin Squire | Premiere | Tuesday | 6:45-8:45 pm | Maria |
| Shaylee Stevens | Extreme | Thursday | 4:45-5:45 pm | Elisa |
| Summer Stevens | Extreme | Thursday | 4:45-5:45 pm | Elisa |
| Amelia Streeter | Energizers | Thursday | 5:45-6:45 pm | Emily |
| Lauren Tippetts | Sensations | Monday | 3:15-5:00 pm | Maria |
| Lindsey Tippetts | Sensations | Monday | 3:15-5:00 pm | Maria |
| Elleah Tolman | Dynamite | Wednesday | 5:00-6:00 pm | Greg |
| Jada Toomer | Energizers | Thursday | 5:45-6:45 pm | Emily |
| Bailey Tucker | Premiere | Tuesday | 6:45-8:45 pm | Maria |
| Breelynn Tucker | Sensations | Monday | 3:15-5:00 pm | Maria |
| Garrett Tucker | Storm | Wednesday | 3:45-5:00 pm | Greg |
| Grayson Tucker | Dynamite | Wednesday | 5:00-6:00 pm | Greg |
| Greg Tucker | Premiere | Tuesday | 6:45-8:45 pm | Maria |
| Halle Tucker | Premiere | Tuesday | 6:45-8:45 pm | Maria |
| Maria Tucker | Premiere | Tuesday | 6:45-8:45 pm | Maria |
| Olivia Tucker | Hot Shots | Monday | 5:00-6:15 pm | Maria |
| Taylor Tucker | Premiere | Tuesday | 6:45-8:45 pm | Maria |
| Alexandria Valentine | Stars | Thursday | 4:00-4:45 pm | Elisa |
| Gloria Valentine | Extreme | Thursday | 4:45-5:45 pm | Elisa |
| Ashton Veenker | Minis | | | |
| Juliette Wagstaff | Minis | | | |
| Marianne Wagstaff | Sparklers | Wednesday | 6:00-7:00 pm | Rebecca |
| Hannah Ward | Dynamite | Wednesday | 5:00-6:00 pm | Greg |
| Samantha Warren | Storm | Wednesday | 3:45-5:00 pm | Greg |
| Cherise Weber | Unlimited | Wednesday | 8:30-9:30 pm | Greg |
| Elise Wells | Dynamite | Wednesday | 5:00-6:00 pm | Greg |
| Melody Wells | Dynamite | Wednesday | 5:00-6:00 pm | Greg |
| Raymond Wells | Stompers | Tuesday | 4:30-5:30 pm | Greg |
| Isabel Witt | Energizers | Thursday | 5:45-6:45 pm | Emily |
| Rashell Wolfort | Unlimited | Wednesday | 8:30-9:30 pm | Greg |
| Brenna Wood | Dynamite | Wednesday | 5:00-6:00 pm | Greg |
| Alicia Woolsey | Premiere | Tuesday | 6:45-8:45 pm | Maria |
| Kayla Woolsey | Minis | | | |
| Kyler Woolsey | Stompers | Tuesday | 4:30-5:30 pm | Greg |